Easy instrument control
EzView controls the instrument and integrates step-by-step procedures to facilitate your workflow. Sample injection sequences can be easily programmed so that the instrument can run automatically.
EzView gives real-time information of
flow cell images
SPRi difference images
Kinetics profiles
Instrument status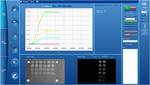 Easy data analysis and reporting
EzAnalysis and EzFit give information about experiment parameters, binding intensities, SPRi difference images, affinity and kinetic rates. Automatic report generation keeps tracks of all experiments and results. High-quality graphs can be exported and saved for your publications.