Several different compounds are used for melting snow. The most common is sodium chloride, also known as halite. Although it can damage roads and plants when misused, halite is inexpensive and useful under many conditions. Other materials include urea, potassium chloride, magnesium chloride, and calcium chloride.
All of these materials dissolve into the ice, snow, or any surface liquid. The formed brine has a lower melting point than the surrounding ice and therefore melts more ice. Eventually, the resulting slush is cleared to leave a clean road. However, if temperatures drop further, even the brine can freeze.
The melting and spreading process is a function of particle size. Small particles with large surface area will become active more quickly. However, these small particles can be light enough to be blown by the wind, affecting spreading accuracy. Large particles will not be affected by the wind and can help provide traction at the expense of melting speed.
Appendix A of the US Federal Highway Administration Manual of Practice for an Effective Anti-icing Program lists some road salt particle sizes.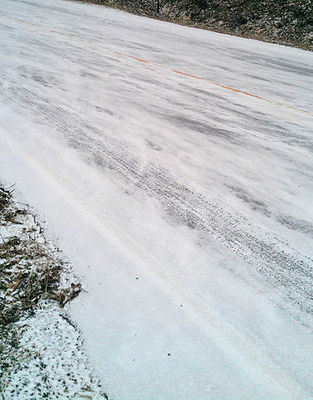 With the road surface almost hidden by snow, many drivers will exercise caution and many governments will consider using snowplows, sand, and salt.