Increased Test Efficiency
MEXA-ONE incorporates HORIBA's leading-edge technology to enhance reliability and performance beyond today's expectations.
Improved durability and maintenance assure efficient test facility operation, reducing overall test duration and accelerating engine and vehicle development.
Faster Response and Shorter Test Times
Fully automated, customer-defined, pre-test routines ensure system readiness for testing. Overall test duration is minimized by reducing analyzer response and wait times between measurements.
50% reduction in analyzer response times (t99) *
30% reduction in analyzer calibration waiting times *
Optimization of analyzer purging times
* By comparison with HORIBA's conventional products
Lower Cost of Ownership
Savings are realized through reduced operational costs, with a focus on reduction of consumables and facility requirements.
10% reduction in power consumption *
Filter element replacement is eliminated due to the use of the automatic purge function for the back flushing filter
30% reduction in analyzer calibration gas consumption *
* By comparison with HORIBA's conventional products

Improved Test Facility Operation
Enhanced Maintenance Support
Ensuring Accurate Measurement
Automatic notifications of periodic inspections and adjustments are generated as required by emission regulations in accordance with a user-defined schedule. Inspections and adjustments can also be started from the control window.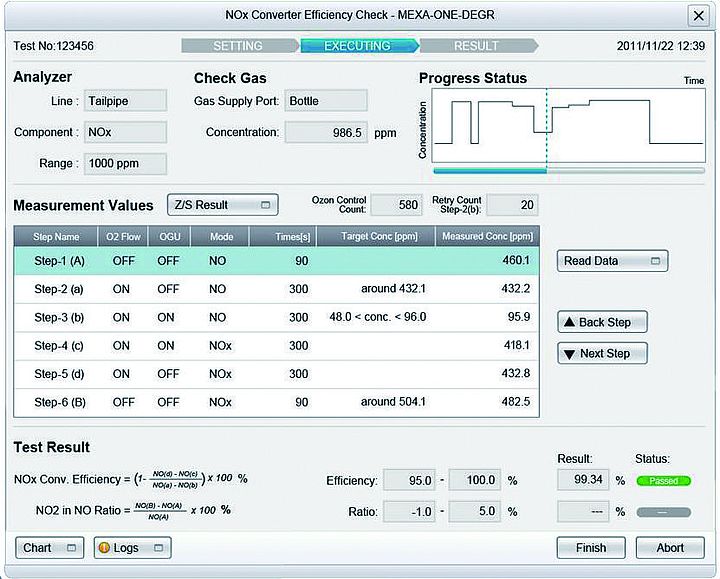 QC Sequence
Preventative Maintenance Feature
This automatic function provides advanced notification for the replacement of consumable parts. This process enables proactive maintenance to be performed.
MEXA-ONE automatically monitors analyzer sensitivity and displays the request for readjustment before exceeding the permissible range.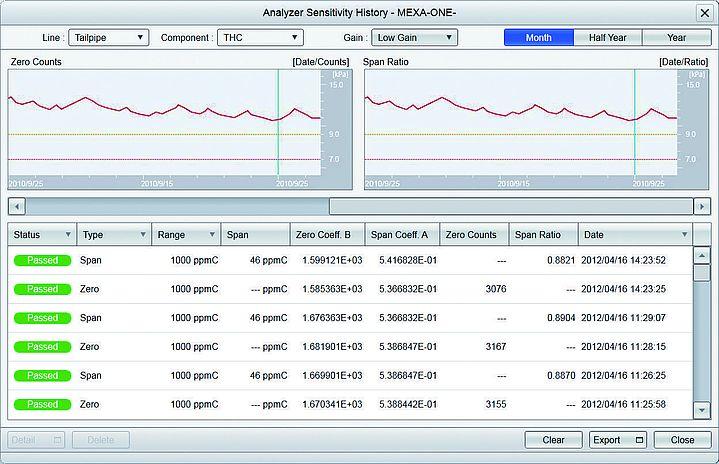 Sensor Sensitivity Monitor
Effective Troubleshooting
When an alarm occurs, the MEXA-ONE not only displays details of the alarm but also generates a display with troubleshooting instructions. Quick alarm resolution enables effective testing.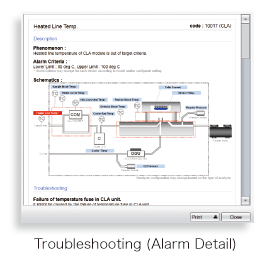 High Performance and Durability
MEXA-ONE exceeds the durability seen in about 4,500 MEXA-7000 units in operation around the world. For example, the entire sample handling system has undergone a major upgrade to optimize sample flow and to reduce pump load.
Wide Application Range
Evaluation of NOx After-Treatment Catalyst Systems
Measurement of nitrogen compounds (NO, NO2, N2O, NH3) is essential for evaluation of NOx after-treatment systems. MEXA-ONE can be easily configured to provide optimum measurement capability based on the testing objective.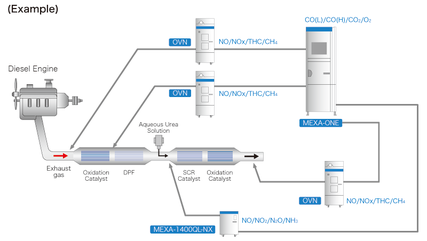 Close-Coupled Transient EGR Measurement
To deliver faster response and more accurate EGR measurement, MEXA-ONE incorporates new EGR sample handling and analysis in a compact cabinet.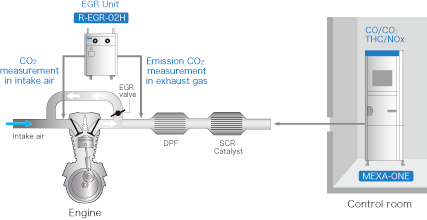 Multi-point EGR Measurement
・Multi-point measurement can now be performed on complete EGR systems using MEXA-ONE's modular design.