Features
Easy measurement by Anyone, Anytime, Anywhere

Designed with plant-based plastic material helping to reduce petroleum consumption

High performance detection with a CsI (Tl) scintillator
The Radi can measure radiation levels ranging from normal natural radiation to levels 100 to 200 times that intensity. Even non-specialists will find it easy to measure radiation of 0.001 - 9.999 µSv/h.
Splash-resistant construction
The Radi can be used with confidence even if there are water droplets on the surface. (JIS water resistance protection grade IPX4)
Compact and lightweight (175 g / 6.2 oz)

Uses two AA batteries.
Battery life 50 hours or more (when manganese dry cell batteries are used)
Applications
For Improvement of the safety and security for the local residents and local communities nearby the nuclear power plants.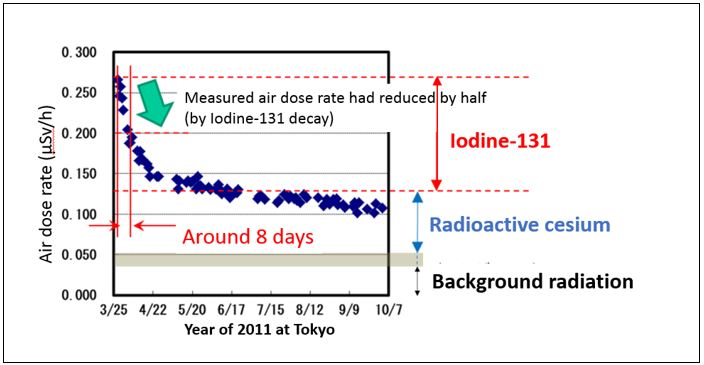 Fig. Actual measured air dose rate data at Tokyo using Environmental Radiation Monitor "Radi" PA-1000, after Fukushima Daiichi Nuclear Power Plant disaster in 2011
Simple radioactivity measurement using Environmental Radiation Monitor "Radi" PA-1000