Miniature Raman spectrometers are available with uncooled CCDs (Sony ILX-511B, S9840, S11071 and S10420) and TE cooled low cost CCDs (E2V CCD-30, S7031) and more high end E2V CCDs.
The range covered by our mini spectrometers and compact Raman probes cover 200-400cm-1 up to 1800-3500 cm-1. Our OEM engineering is focused on providing customized systems.
Our OEM laser solutions come with TE cooling and built-in wavelength stabilization, at 532, 660 and 785nm (more on request) and range in power from 50mW to 350mW (or more for challenging detection limits).
For one-off system purchases, please consider our standard Raman systems or customisable modular Raman systems.
For further information and quotation on prototypes and volume please visit our OEM Miniature Raman webpages.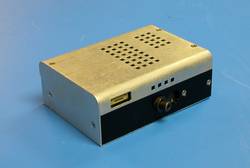 Amazing size for Miniature Raman spectrometer :
about 64 x 89 x 32mm