Real-time monitoring
Response and repeatability that allow tracking of changes in vapor concentration
Multi-calibration Curve Function (Optional)
Allows for the installation of up to 3 discrete chemical/full scale concentration calibration curves.
Multi-display Function
The multi-display function of the IR-300 Series combines a display and mode LEDs on the top of the unit for onsite checking of concentration monitoring and precursor supply line status.
Communications Function
Line up includes models for DeviceNetTM and digital/analog communications.
Simple, Compact Design
With a face-to-face size of 124 mm, the unit's compact design allows mounting orientation free.
A high optical intensity, long-life source combined with a high-speed signal processor enables the IR-300 Series to achieve faster, more repeatable responses to changes in precursor concentration (more than two times better than HORIBA priorgeneration technologies), in turn enabling new processes with real-time inline concentration measurement.
* For stable monitoring, zero calibration prior to measurement (at least once per day) is recommended.
Measurement Example of MOCVD Precursor
■Experiment flow sheet

■Monitoring of precursor concentration change
Here is an example in which the concentration of the supplied precursor—which changes due to adjustment of the pressure in the bubbler by the back pressure regulator—was monitored in real time.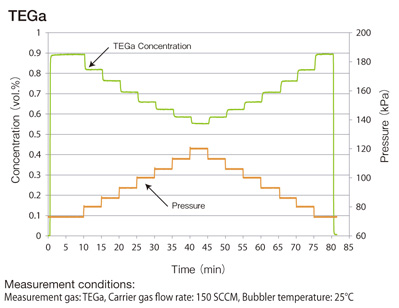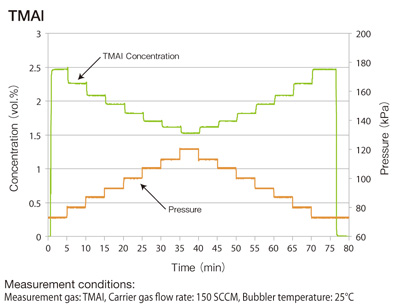 Measurement Techniques
Reliable, High-performance
Non-dispersive Infrared Absorptiometry (NDIR)
The infrared absorptiometry method employed by the IR-300 Series uses the principle of the absorption by gas molecules of the infrared light emitted from an infrared light source. A sample output from a sample that has absorbed the gas being measured is compared to a reference output with no absorbance, and the result is converted into a gas concentration. The use of this double beam method enables long-term, stable measurement results to be obtained.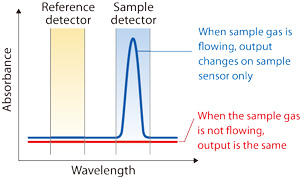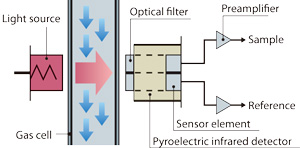 The optical system is made up of a light source, gas cell and double beam detectors. The stability of the double beam detector has been proven over a period of more than 40 years.