What type of sample can be measured?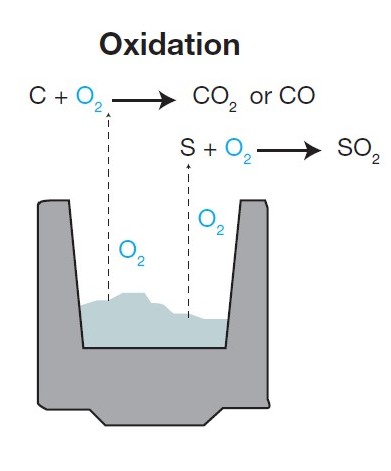 C/S & O/N/H analyzers measure inorganic solid samples that usually are present in the shape of small blocks, chips, powders or granulates. For instance, with a C/S analyzer, a ceramic crucible is typically filled with a small block (often 1g) of sample. Combustion facilitators are added (W, Sn) and the components are heated to very high temperatures under an O2 flow leading to the melting of the sample. The C and S from the sample combine with O2 to generate gases (CO, CO2, SO2) that are measured. The principle of C/S analysis is therefore an oxidation.
Even from this schematic description of the principle, several key points can be highlighted.
First the combustion needs to be complete. If not the information collected could not be fully related to the material analyzed. Optimum recipes that assure full and complete combustion are available for the different materials. Second the sample needs to be weighed. 1g of sample is a typical targeted value for C/S, well adapted to the furnace and melting conditions and usually representative enough for a given material but 0.95 g or 1.05g will be equally melted. In order to correlate the total gas amount measured to the mass concentration of C and S in the sample, the sample weight must be checked prior to the analysis using a high precision balance. On the other hand, decreasing the sample weight is sometimes needed when high concentrations are present in order to avoid detector saturation or incomplete combustion.
Third when the amounts to measure are extremely low (a few ppms of C for instance in steel) sources of contamination need to be carefully eliminated. Crucibles, for instance, are often pre-burned prior to the analysis to remove residual C. However about 20ppm of C may originate from crucibles that have not been cleaned, and this is of course significant when low concentrations have to be measured (or higher concentrations but with smaller amount of material). Similarly, surface cleaning of the sample is done prior to punching, and the carrier gas may have to be purified.
Finally the combustion could generate unwanted gases (such as water) and dust that need to be carefully eliminated to avoid contamination of the analysis. The C/S instruments from HORIBA for instance, have advanced patented features that optimize dust collection and greatly minimize and facilitate the cleaning.