HORIBA Group recently delivered an order from the Ministry of the Environment of Japan (MOE Japan) for HORIBA's PX-375 Continuous Particulate Monitor with X-ray Fluorescence, which continuously measures PM2.5's fine particle matters in the air, while simultaneously analyzing its elements 24 hours a day. In April 2017, the monitor will be installed in the four MOE-designated locations of Tokyo, Niigata, Fukuoka, and Nagasaki, beginning continuous PM2.5 measurement and elemental analysis.
Since the full picture regarding PM2.5, including the mechanism of its generation, remains undetermined, MOE Japan has strengthened its system to collect and analyze more data in order to clarify the cause of air pollution and take effective measures to reduce it. To that end, the Ministry has considered it as necessary to obtain large amounts of detailed, continuous data.
PX-375 is capable of measuring not only the mass of PM2.5 using the amount of beta rays it absorbs but also elemental analysis through X-ray radiation, allowing users to understand the chemical components in PM2.5 generation. Therefore, the monitor enables collection of observation data that contributes to solve the problems related to air pollution.
Previously, conventional PM2.5 analysis had to be undertaken manually, a time-consuming process that required specialized skills. PX-375 contributes to more accurately understanding the precise process of how air pollution is caused as it allows not only automatic, continuous measurement and analysis, it also collects samples through filters and can therefore be applied to chemical analysis using existing measuring instruments.

The background: MOE Japan's introduction of HORIBA's product
PM2.5 consists of various kinds of chemical components whose ratio depends on the country, region and season. Therefore, it is crucial to understand the mechanism of how PM2.5 is formed in terms of which chemical components it consists of, where they come from, and their concentration.
Given this need, MOE Japan announced its plan to invite tenders for purchasing equipment in order to bolster its monitoring system to clarify the mechanism of how PM2.5 is being generated and to identify its source through analyzing elements of PM2.5 in detail for 24 hours a day.
Previous instruments required users to manually take out collected particles and then use analyzers to process them at another place, but PX-375 enables PM2.5 collection and analysis at the same time. Furthermore, it is also possible to confirm fluctuations in measured figures instantaneously even at remote locations. Given these features, the MOE Japan decided to adopt HORIBA's PX-375.

Strengths of PX-375 Continuous Particulate Monitor with X-ray Fluorescence
PX-375 allows users to conduct automatic, continuous elemental analysis every hour using mass analysis and fluorescent X-ray analysis (*1) based on the beta ray absorption method (*2) in a single instrument.
*1: This method analyzes the elements that comprise matter and their component ratios using the energy of fluorescent X-rays generated when X-rays are thrown on a sample and their intensity.
*2: If low-energy beta rays are thrown on matter, the amount of beta rays absorbed increases in proportion to the mass of the matter, and the beta ray absorption method uses this principle.

This monitor enables high-precision analysis by collecting particles with a low concentration of impurities using a filter that combines PTFE (*3), which is developed by HORIBA independently, and nonwoven fabrics.
*3: Polytetrafluoroethylene (PTFE) is fluororesin (fluorocarbon resin) that consists only of fluorine atoms and carbon atoms.

The monitor enables real-time data acquisition and monitoring through remote access from places other than the site of measurement.
 
Product specifications
| | |
| --- | --- |
| Product name | Continuous Particulate Monitor with X-ray Fluorescence |
| Model | PX-375 |
| Objects of measurement | Particulate matter in the air (PM10, PM2.5, and TSP) |
| Content of measurement | Particulate mass concentration and element concentration |
| Power supply | AC100 V–240 V |
| Dimensions | 430 mm (W) x 550 mm (D) x 285 mm (H) |
| Weight | Approximately 40 kg |
PX-375 enables measurement of the elements listed below.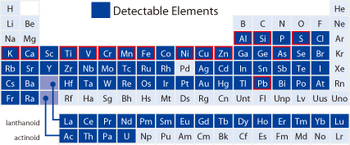 * Elements surrounded by red lines indicate those which can be quantified.
 
The air is constantly being monitored at the Biwako Factory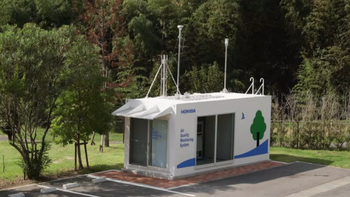 HORIBA BIWAKO E-HARBOR, the company's largest development and production site, has AQMS (*4), a constant air pollution monitoring station on the premises, which combines PX-375 with a system to analyze tiny amounts of gas for air-pollution monitoring. Going forward, through daily measurement and analysis, HORIBA will contribute to protecting the environment by promoting research not only in new technologies but also in clarifying the causes of air pollutions and measures to prevent it.
*4: Facility with an automated machine that enables it to obtain meteorological data, including wind directions and velocities, and continuously measure the concentration of substances in the air such as sulfur dioxide, particulate matter, nitrogen oxide, carbon oxide, and ozone, throughout the year.