Montpellier, France, July 31, 2020
Background:
Skills evaluation and Training within the hematology laboratory is a key step in its activity and sustainability. The objective is to guarantee the reliability of analysis and the quality of the medical service.
One of the essential activities in accreditation is the assessment of staff skills in accordance with Chapters 5.1.2.d (Assessment of Competencies) and 5.1.3 (Continuous Training) of the NF EN ISO 15189 standard.
ISO 15189 Medical Laboratory Accreditation is a tool to demonstrate the quality and competence of medical laboratories and ensure delivery of timely and accurate results.
QSP 2.0: An Affordable Digital tool for "Skills Evaluation & Training" in blood morphology:
To meet this requirement, HORIBA Medical launches QSP 2.0, an innovative solution for blood film review, accessible to all laboratories, to control this aspect of their service.
As a unique digital blood cell morphology QC and training program, QSP2.0 also helps to standardize blood film review. QSP 2.0 is an affordable digital tool for high-definition imaging; didactic and very intuitive. It offers digitalized blood films which are scanned and appraised beforehand, to laboratory staff for examination and assessment.
It allows the laboratory to assess the ability of prospective blood film reviewers to correctly identify individual WBC populations and other identifiable elements.
QSP 2.0 helps to standardize an area of the laboratory where results may sometimes be subjective.
Continuous improvements to FBC* technology over the years has led to low blood film review rates, however this has resulted in the reduction of experience, staff confidence and subsequently has created a skills gap in hematology morphology review.
QSP 2.0 helps to overcome these challenges by improving training in blood film morphology and providing a means of assessing staff competencies. The QSP 2.0 is available now for both demonstration and lunchtime presentations.
QSP 2.0 : How does it work?
The QSP 2.0 consists of a software package, activated by a software license (no USB key required) provided by an URL link.
Depending on the option chosen, the license allows unlimited users connected to a parent computer.
Single License

Option 1
License for an individual computer
Single computer license bound to a specific computer via a license file (software dongle, no physical USB dongle) Local installation of QSP2.0 with slide packages and user reports.

Site License

Option 2
License for up to 10 concurrent computers
Note for clarification: the site license is similar to individual QSP 2.0 installations with the added flexibility that it can be used on several computers where QSP 2.0 is installed and administrated. It is NOT a networked version of QSP 2.0, i.e. there is no shared database, integrated reports or automated installation of QSP 2.0 installations on all computers in the network.
The scheme releases 6 hematology digital slides per month that can be downloaded by the laboratory. The slides are pre-classified but can be assessed, amended and additional comments added by the laboratory morphology expert before being released in an unclassified form to laboratory staff.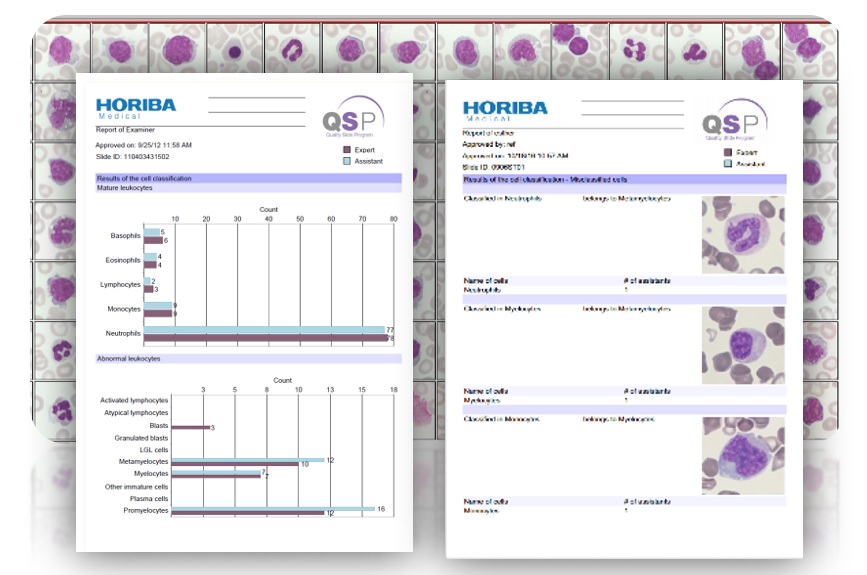 Morphology staff can then review the slide and perform a WBC differential with drag-and-drop, and select WBC, RBC and Platelet comments. Once submitted, both the 'expert' and morphologist can see a comparison of results and generate a performance report. Individual cells where there has been a difference in classification are highlighted for review and there is an opportunity to add comments and training notes. Using the program, a morphology trainer can immediately assess competence and identify any training requirements. The reports generated can also form part of an individual's training log.
The scheme helps to control and assess an area of the laboratory that is notoriously difficult to verify in terms of quality. It also enables the laboratory to develop a consistent approach to film review and produce a more standard result.
Within the 6 slides released each month, there will be a variety of conditions from normal slides to rare and unusual morphology. The morphology trainer can therefore target which slides may be appropriate for individual morphologists, challenging for experienced staff and more basic for trainees. Thus the system can assist the training process and build confidence in morphological technique.
Because of the flexible design of the system, different laboratories can vary the way they use the program to meet their individual needs.
With increasing pressure on pathology laboratories in terms of quality processes and documentation, the diagnostics industry has a responsibility to support its customers and schemes such as QSP 2.0 can make a valuable contribution. By working in partnership with laboratories, diagnostics can not only assist their customers but also develop solutions to meet future needs.
* FBC: Full blood count. This is a test to check the types and numbers of cells in your blood, including red blood cells, white blood cells and platelets.This can help give an indication of your general health, as well as provide important clues about certain health problems person may have (source: www.nhs.uk).


More information at:
https://www.horiba.com/en_en/products/detail/action/show/Product/quality-slide-program-qsp20-1859/
or https://rebrand.ly/hormed-qsp2-0