Chicago, IL March 11th, 2020 HORIBA Scientific, global leader in measurement and analysis solutions for research and industry, and world leader in Raman spectroscopy, is thrilled to announce that their new LabRAM Soleil™, the first multimodal Raman microscope designed for UV-VIS-NIR Raman imaging, won the Bronze Pittcon Today Excellence Award at Pittcon 2020, in Chicago, IL.
The Pittcon Today Excellence Awards recognize innovation in laboratory science at the world's leading conference and exposition for laboratory science. The criteria for submission is that the product is either already on, or ready to go to the market. Judging is based on the product's innovation, creativity and implementation, as well as the projected impact it will have on the industry and the world. The awards are based on company size (small, medium and large).
The LabRAM Soleil™ confocal Raman imaging microscope was recognized for its ultrafast imaging, advanced automation features, intuitive software and robust design.
Multimodal ultrafast imaging gives researchers the ability to observe samples in different modes for all types of applications. Patented SmartSampling™ makes hyperspectral mapping much faster with an image-compression algorithm, enabling users to map samples up to 100 times faster than before. The QScan™ patented confocal imaging system is a high-quality optical system that enables scanning of the excitation laser over the sample surface, for high confocality of the image multilayer sample, the ability to map the sample without moving it, and more agility with point-and-shoot operation, directly on the video image.
Advanced automation offers benefits such as true self-operation, remote maintenance and instant objective recognition.
Integrated LabSpec 6 Spectroscopy software ensures faster data acquisition routines and analyses, with a new series of apps, downloadable from the App store. These new apps include EasyImage™ to simplify the entire workflow, MVAPlus™ for a full range of multivariate analyses, enabling easy and efficient analysis of chemical components, the Know-It-All™ database, including the HORIBA database, to combine all know-how assets in one place, and 3D Volume™ to ensure high precision interpretation by combining topographic and confocal analysis for 3D imaging.
"We are thrilled to have our newest Raman LabRAM Soleil microscope recognized for its innovative design and functionality," said Dr. Andrew Whitley, VP of Sales and Business Development at HORIBA Scientific. "Raman imaging is now faster and easier than ever before."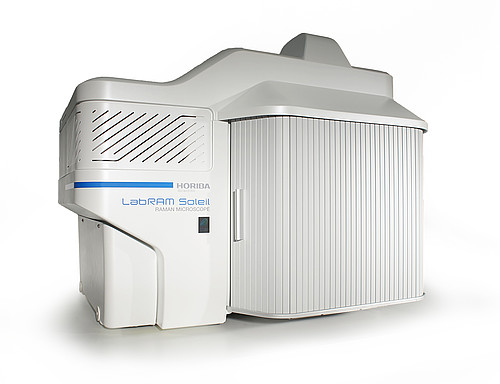 LabRAM Soleil™ is now available. More information can be found at: www.horiba.com/labramsoleil
HORIBA Scientific, part of HORIBA Instruments Incorporated, headquartered in the United States, provides an extensive array of instruments and solutions for applications across a broad range of scientific R&D and QC measurements. HORIBA Scientific is a world leader in OEM Spectroscopy, elemental analysis, fluorescence (including the PTI brand), forensics, GDS, ICP, particle characterization, Raman, spectroscopic ellipsometry, sulphur-in-oil, SPRi and water quality measurements, as well as XRF. Our instruments are found in universities and industries around the world. Proven quality and trusted performance have established widespread confidence in the HORIBA Brand.
HORIBA supplies over 500 types of scientific analyzers to universities, research institutions, various manufacturing industries and the government. In some of the most advanced science and technologies, HORIBA provides multi-faceted data solutions for what are niche markets – assisting the most cutting-edge research in the tackling of uncharted territories.
Building on a long tradition of pursuing innovative technology to advance scientific efforts, HORIBA Instruments Incorporated has acquired and assimilated renowned companies such as Société Générale d'Optique (1969), SPEX (1988), Dilor (1995), SOFIE (1996), Jobin Yvon (1997), IBH (2003), GenOptics (2009), and Photon Technology International (2014).
The HORIBA Group is a global company that offers solutions and engineering services, based on our strong performance in developing and manufacturing instruments and products in the analysis and measurement fields. With "Explore the Future" as its brand message, HORIBA has been pursuing state-of-the-art analysis and measurement technology since its establishment in 1945. Founded in the historic city of Kyoto, Japan, it has grown steadily throughout its 70 years of business and is now providing services worldwide as the leader in the analysis technology field.
We engage in five different business segments with high value-added products and services: Automotive Test Systems, Medical-Diagnostic Instruments and Systems, Semiconductor Instruments and Systems, Scientific Instruments and Systems, and Process and Environmental Instruments and Systems. We have established an optimal number of business bases in Japan, Asia, Europe, and the Americas.
Media Contact:
Joanne Lowy
HORIBA Scientific
joanne.lowy(at)horiba.com
732 494 8660 x 7774
For EMEA
Media Contacts (editorial only):
HORIBA France
Pascal Cerruti, Marketing Director
or
Odile Hirsch, Communications
Phone: +33 (0)1 69 74 72 00 | Email: pascal.cerruti(at)horiba.com| odile.hirsch@horiba.com |
Other Contacts (all other inquiries):
All others: info-sci.fr(at)horiba.com