FluorEssence™ for Windows® sets a new standard for fluorescence software. FluorEssence™ merges spectrofluorometer data-acquisition directly to the famous processing power of Origin® software.
Simple clicks let you select a scan type, accessory or bring back a complete experimental set-up.
Revolutionize the Way You Operate Your Spectrofluorometer:
Simplified windows make data-acquisition intuitive even to the casual user.
With detector algebra, assemble input signals from different detectors into unique equations (including arithmetic or transcendental functions) that produce data in a format tailored to your application.
Select the special Real Time Control (RTC) window to optimize your run parameters before actually scanning.
Free video tutorials make FluorEssence™ even easier to learn.
Run a variety of accessories including polarizers, microwell-plate readers, temperature baths, autotitrators, phosphorimeters, and more.
Automatic correction for blanks and lamp output.
Change units for temperature, wavelength, and slit-width with the click of a mouse.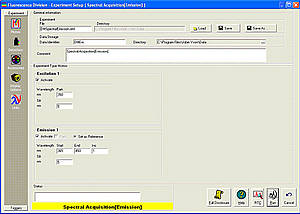 FluorEssence™ also includes the powerful processing and data-management tools of Origin® to streamline your laboratory's operation.
Data-viewing, plotting, processing and management are all available, including extensive import and export facilities, view manipulation and creation, arithmetic applications, peak-picking and integration, data-management and much more!
Features
Data views in Workbook formats, keeping graphs, tables and notes together for each experiment
Zooming and scaling
Contour maps and profiles from 3D plots
Integration/DerivativeFit fluorescence data to Gaussian, Lorentzian, and custom curves
Standard arithmetic
3D perspective
Smoothing
Deconvolute
Excitation/emission correction
Interpolation and extrapolation
Blank subtraction
Normalization
PLQY calculator wizard (for use with Quanta-Phi accessory)