What is correct calibration?
A standard solution which the pH value is known is used to calibrate the pH electrodes, the operation in which the electrodes are adjusted to accurately detect the pH of the standard solution. *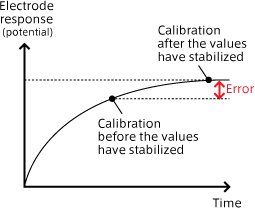 Compared to general test solutions, the response of the pH electrodes to the standard solution is fast. However, it still takes some time for the values to stabilize.* If calibration is performed before the values have stabilized, as shown in the figure, measurement deviation occurs against the calibration when performed after the value has stabilized and this then becomes the measurement error in further measurements.
LAQUA enables the response of the pH electrodes to be viewed on a graph, and displays even the smallest changes within the most recent 10 seconds as the "Stability". Only LAQUA lets you visually check the "Correct calibration", thus enabling high-precision pH measurement.
* The response speed of the electrodes to the standard solutions varies according to the condition of the electrodes.