Converter rating
Product name
Fluoride ion meter
Model
HC-300F
Measurable range
0 mg/L to 10000 mg/L (Display range: 0 mg/L to 11000 mg/L)
Available range options:
10000, 5000, 2000, 1000, 500, 200, 100, 50, 20.0, 10.0 mg/L
0℃ to 100℃ (Display range: -20℃ to 130℃)
Display
resolution
Concentration
0.1 mg/L: 0.0 mg/L to 20.0 mg/L
1 mg/L: 0 mg/L to 200 mg/L
10 mg/L: 0 mg/L to 2000 mg/L
100 mg/L: 0 mg/L to 10000 mg/L
Temperature
0.1℃
Performance
Concentration
Repeatability
Within ±7% of the full scale (response for equivalent input)
Linearity
Within ±10% full scale (response for equivalent input)
Temperature
Repeatability
±0.3℃ (response for equivalent input)
Linearity
±0.3℃ (response for equivalent input)
Transmission
output
Output type
4 mA to 20 mA DC, input/output isolated type
Load resistance
Max. 600Ω (case of 24 V DC power supply)*1
Linearity
Within ±0.08 mA (output only)
Repeatability
Within ±0.02 mA (output only)
Output range
Concentration: Selection from preset ranges or free range input within measuring range.
Occasional out for error
Hold or burnout to either 3.8 mA or 21 mA
Transmission hold
In the maintenance mode, transmission signal is held at the latest value or preset value.
In the calibration mode, transmission signal can be alive or held.
Contact input
Number of input points
1
Contact type
No-voltage a contact for open collector
Conditions
ON resistance: 40Ω
Open voltage: 1.2 V DC
Short-circuit current: 21 mA DC max.
Contact function
External input for transmission holding.
Temperature
compensation
Applicable temperature element
Platinum resistor: 1 kΩ (0℃)
Positive relation resistor with temperature: 10 kΩ (25℃)
0℃ to 100℃
Temperature calibration
1 point calibration comparing reference thermometer
Calibration
Number of calibration points
Selectable from 1, and 2 points
Kinds of standard solutions
The first point: Calibrated by the standard solution with the density from
50 to 100% of the measuring range.
The second point: Calibrated by the standard solution with the density
from 1 to 20% of the measuring range.
Additional capabilities
Automatic detection of calibration failure (asymmetry potential,
sensitivity, or response time)
Calibration history (asymmetry potential, sensitivity, and number of days elapsed after last calibration)
Self-check
Calibration error
Asymmetry potential error, and sensitivity error
Temperature calibration error
Electrode diagnostic error
Temperature sensor short-circuit, temperature sensor disconnection,and out of the temperature measurement range
Meter error
CPU error, ADC error, and memory errors
Operating temperature range
-20℃ to 60℃ (without freeze)
Operating humidity range
Relative humidity: 5% to 90% (without condensation)
Storage temperature
-25℃ to 65℃
Power supply
Rated voltage
24 V DC (operating voltage range: 21 V to 32 V DC)*1
Power consumption
0.6 W (Max)
Compatible
standards
CE marking
EMC directive: EN61326-1
RoHS Directive: EN50581
EMC
Immunity
Industrial
electromagnetic
environment
Electrostatic discharge
IEC61000-4-2
Electromagnetic field at radiated radio frequency
IEC61000-4-3
Electric fast transient/burst
IEC61000-4-4
Surge
IEC61000-4-5*2
Conducted interference induced by radio
frequency
IEC61000-4-6
Emission
Class A
Radiated disturbance
CISPR 11 CLASS A
FCC rules
Part15 Class A
Structure
Installation
Outdoor installation type
Installation method
Mount on 50 A pole or wall
Protection code
IP65
IEC60529, JIS C 0920
Case material
Aluminum alloy (coated with epoxy-denatured melamine resin)
Material of fittings
SUS304
Material of hood
SUS 304 stainless steel
(coated with epoxy-denatured melamine resin)
Material of window
Polycarbonate
Display element
Reflective monochrome LCD
External dimensions
180 (W) × 155 (H) × 115 (D) mm (excluding mounting brackets)
Mass
Main body: Approx. 2.8 kg; cover and mounting brackets: Approx. 1 kg
*1: The max. load resistance is available within the range shown in the figure below, depending on power supply voltage:
Relation between power supply voltage and load resistance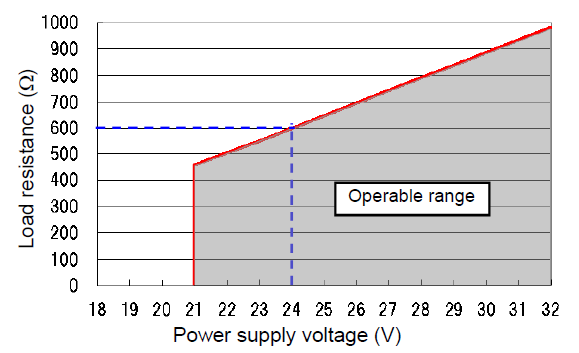 *2: When the sensor cable, the transmission cable, or the contact input cable is extended to 30 m or longer, the surge test specified in the EMC directive for CE marking is not applied.
Note
For transmission output, an arrester (spark-over voltage: 400 V) is implemented. However, use the optimal surge absorption element on the connection line in accordance with the ambient environment, equipment installation situation, externally connection equipment, and others.
Electrode rating
Product name
Fluoride ion electrode
Model
1009
Sample water
conditions
pH range
4pH to 8pH (at 0.2 mg/L)
4pH to 10pH (at 20 mg/L)
4pH to 12pH (at 2000 mg/L)
Temperature range
0℃ to 40℃
Electric conductivity
500 μs/cm or more
Flow rate range
1 cm/sec to 20 cm/sec
Electrode structure
Structure
Submersible type
Response film
Lanthanum fluoride
Comparative electrode
Ag/AgCl, Internal solution KCL3.3 mol/L, Replenishment type
Liquid junction
Ceramic double junction
Temperature
compensation element
Pt1000 Ω (0℃)
Cable length
5 m
External dimensions
12φ mm × 175 (L) mm (cable and projection excluded)
Mass
Approx. 200 g
Option
Holder
CH-10 (Immersion type holder)
CF-30 (Inline type holder)
Cleaning device
JCH-12 (Immersion type water-jet cleaning device)
JCH-32 (Circulation type water-jet cleaning device)
Note
This monitor detects the free fluoride ions in liquids, but it does not detect all fluorides. When complexes are present, a measurement lower than JIS will result.
Measurements may vary depending upon the pH level. Use this monitor in close to neutral pH conditions.