In addition to innovative products and services, customers are interested in the values and environmental impact of the companies with whom they choose to partner. This shift in customer preference is reflected in our integration of Corporate Social Responsibility (CSR) and Environmental, Social, and Governance (ESG) initiatives into our core values and operations.
We have a long history of supporting a clean and healthy environment and continue this dedication to reduced environmental impact through sustainable practices. These include reduced waste, optimized energy use, and eco-friendly measures across our value chain to ensure a positive force for change in the regions where we operate.
Corporate Social Responsibility (CSR) and Environmental, Social, and Governance (ESG) initiatives
Environmental Sustainability

We are deeply aware of the impact our global operations have on the environment. As part of HORIBA's CSR and ESG efforts, we are implementing sustainable practices to reduce our carbon footprint and to conserve resources.

Social Responsibility

We are committed to being a good corporate citizen and a responsible steward of the environment.

Ethical Governance

Our commitment to ethical governance ensures that we adhere to the highest standards of integrity, transparency, and accountability in all our activities.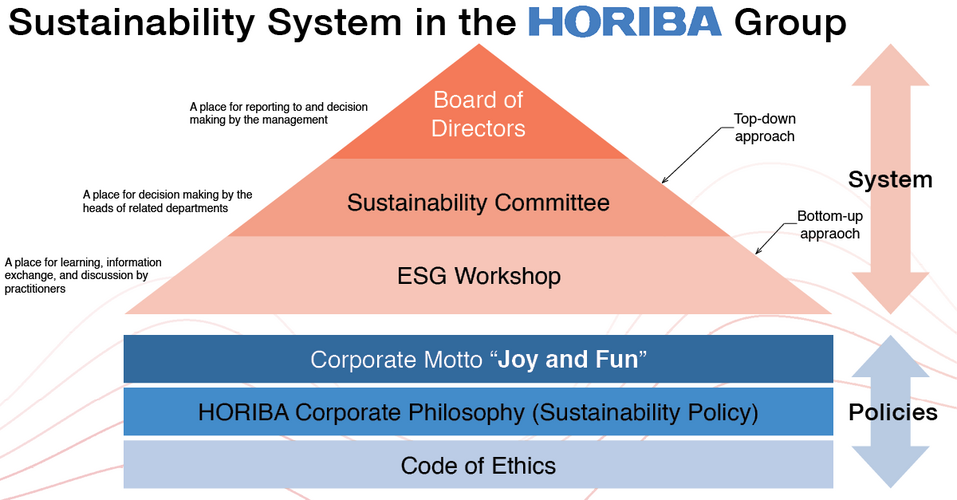 Current projects to align with corporate CSR and ESG targets.
Evaluation of adherence and readiness to global standards.
Adoption of the Responsible Business Alliance Code of Conduct (https://www.responsiblebusiness.org/code-of-conduct )
Global Procurement team leaders work closely with HORIBA Corporate Compliance to better understand integration into our valued supply chain.
Our employees play an important role in the success of these initiatives
We recognize that programs like these thrive with strong employee support and engagement. Our employee's active involvement is crucial to their progress. We firmly believe that, by working together as a team, we can shape a bright and more sustainable future for all.
Click here to learn more about our Corporate Philosophy