On June 25, 2021, Shimadzu Corporation (Kyoto, President & CEO: Teruhisa Ueda, hereinafter Shimadzu) and HORIBA, Ltd. (Kyoto, President & COO: Masayuki Adachi, hereinafter HORIBA) released a new LC-Raman system that combines a Shimadzu high-performance liquid chromatograph (HPLC, hereinafter LC) with a HORIBA Raman spectrometer (hereinafter Raman) for the Japanese domestic market.
The product is the result of joint development work that started in August 2020 and represents the world's first* system to combine these technologies. Combining LC separation technology with Raman visualization technology not only significantly increases measurement accuracy and efficiency, it is expected to offer new measurement value by detecting unknown components.
Both companies intend to contribute to global society by releasing superior technologies from Kyoto out to the world.
Development Background
Markets involved in ensuring the safety and health of people, such as healthcare, pharmaceuticals, and life sciences, and markets involved in developing advanced materials, have been changing at a rapid pace in recent years. For research and development in such fields, it is important to have measuring methods that are as accurate and efficient as possible.
Shimadzu liquid chromatographs provide superior "separation" technology for isolating target measurement components from sample mixtures, which is a key strength for accurate quantitative analysis of target components. HORIBA Raman spectrometers provide superior "visualization" technology for discriminating between different molecular structures, which is a key strength for predicting unknown components. Both products have the largest share* of their respective product markets in Japan. In an effort to further accelerate innovation, both companies jointly developed a new LC-Raman system by combining the strengths of their respective technologies to achieve a new dimension of performance.
* According to a survey by both companies (as of June 2021)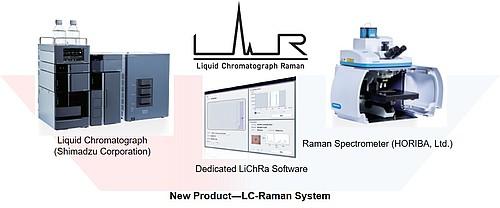 Product Features
1. "Sharp" Differentiation: Clearly Identifies Constituents in Mixture Samples
• The LC unit efficiently separates constituent components from mixture samples and concentrates each component by dripping them onto a plate. Then the Raman acquires the Raman spectrum for each component. The respective components are identified by comparing the resulting Raman spectrum to spectra registered in a database. That results in ultra-accurate discrimination that is over 100 times more accurate than conventional Raman spectrometers, which contributes to measuring compounds with complex structures or detecting unknown components.
2. Specialized Software Promotes Easy Operation and Centralized Data Management
• Dedicated LiChRa software integrates LC and Raman operation. In addition to controlling overall instrument operation, LiChRa software provides centralized management of data from the LC and Raman units linked to sample information. Furthermore, the simple and intuitive window layout ensures easily understandable operation, even for first-time users. It also makes it easy to view and search measurement results and other data in one location.
3. Using the System for a Wide Variety of Analytical Applications
• Professor Haruko Takeyama, Faculty of Science and Engineering, Waseda University is working with the two companies to develop applications in the life science and bioscience markets. It will be offered as a solution for challenges in a wide variety of measuring situations, including based on synergies in industry-academia collaborations.
• Shimadzu and HORIBA also developed a method for analyzing the structure of synthetic polymers with the LC-Raman system.

Examples of Anticipated Applications
Field
Application
Healthcare
• Biomarker discovery
• Analyzing components in biological organisms
Pharmaceuticals
• Analyzing structural isomers of small-molecule drugs
• Analyzing aggregates and modified groups in antibody drugs
Life Sciences
• Analyzing/discovering microorganism metabolites
(building a metabolite database and searching for new substances)
• Analyzing components in culture media
Foods
• Analyzing the ratios of sugars and fatty acids in compositions
• Searching for new components with functional benefits
Chemical Products
• Predicting the structure of synthetic compounds and evaluating impurities
• Analyzing structural changes in components of cosmetics, etc.
Note: Currently, the system is only available in Japan

Terminology
High-performance liquid chromatograph:
An instrument or system that performs high-performance liquid chromatography (HPLC). HPLC systems are used to qualitatively or quantitatively analyze individual sample components by pumping the mobile phase solution and the sample through a column (a long tube) to separate the respective components and then using a detector to detect the separated components after they exit the column.
Raman spectrometer:
A system that analyzes substances using Raman spectroscopy based on the properties of light. Raman spectrometers irradiate samples with monochromatic light and then detect the Raman light scattering characteristics uniquely exhibited by each substance in order to analyze the molecular structure or component content of samples or to evaluate the stress, strain, or other properties.