Product name
Dissolved oxygen meter
Model
HD-300
Combined sensor
5505, 5510 (A bipolar diaphragm type polarography sensor)
Combined probe
DO-1100
Measurement
range
Dissolved oxygen
concentration
0 mg/L to 20 mg/L (Display range: 0 mg/L to 22 mg/L)
Saturation degree
0% to 200% (Display range: 0% to 200%)
Temperature
0℃ to 50℃ (Display range: -10℃ to 110℃)
Display
resolution
Dissolved oxygen
concentration
0.01 mg/L
Saturation degree
1%
Temperature
0.1℃
Performance
Dissolved
oxygen
concentration
Repeatability
Within ±0.5% of the full scale (response for equivalent input)
Linearity
Within ±0.5% of the full scale (response for equivalent input)
Temperature
Repeatability
±0.5℃ (response for equivalent input)
Linearity
±0.5℃ (response for equivalent input)
Transmission
output
Output type
4 mA to 20 mA DC: input/output isolated type
Load resistance
Maximum: 600 Ω(when power supply voltage is 24 V DC) (*1)
Linearity
Within ±0.08 mA (output only)
Repeatability
Within ±0.02 mA (output only)
Output range
Dissolved oxygen concentration: Selection from preset ranges or free range input within measuring range.
Occasional out for error
Hold or burnout to either 3.8 mA or 21 mA
Transmission hold
In the maintenance mode, transmission signal is held at the latest value or preset value.
In the calibration mode, transmission signal can be alive or held.
Contact input
Number of input points
1
Contact type
No-voltage a-contact
Conditions
ON resistance: 40 Ω maximum.
Open voltage: 1.2 V DC
Short-circuit current: 21 mA DC
Contact function
External input for transmission holding.
Temperature
compensation
Applicable temperature
element
Platinum resistor: 1 kΩ (0℃)
(The temperature sensor is built into the probe DO-1000.)
Temperature compensation
range
0℃ to 50℃
Temperature calibration
1 point calibration comparing to reference thermometer
Calibration
Calibration method
Span calibration in the air or DO saturated aquaous solution
Number of calibration points
Atmospheric calibration: 1 point
(Zero electric calibration is carried out automatically)
Saturation liquid calibration: 2 points (zero calibration is omitted)
Additional capabilities
Salinity compensation (0.0% to 5.0%)
Automatic detection of calibration failure (Zero error, Sensitivity error)
Calibration history (Elapsed days from the last calibration which ever zero or span, zero shift, span sensitivity)
Self-check
Calibration error
Zero calibration error, sensitivity error, outside of temperature calibration range
Electrode diagnostic error
Sensor error (damage to diaphragm), disconnection of sensor (or damage to sealing), temperature sensor short-circuit, and electric discontinuity of temperature sensor
meter error
CPU error, CPU error, ADC error, memory error
Operating temperature range
-20℃ to 60℃ (without freeze)
Operating humidity range
Relative humidity: 5% to 90% (without condensation)
Storage temperature
-25℃ to 65℃
Power supply
Rated voltage
24 V DC (operating voltage range: 21 V to 32 V DC)*1
Power consumption
0.6 W max.
Compatible
standards
CE marking
EMC  :EN61326-1
     Class A, Industrial electromagnetic environment
RoHS  :EN50581
     9. Industrial monitoring and control instruments
FCC rules
Part15 Class A
Structure
Installation
Outdoor installation type
Installation method
Attached to 50A pole or wall
Protection code
IP65
Case material
Aluminum alloy (coated with epoxy-denatured melamine resin)
Material of fittings
SUS304
Material of hood
SUS304 (Epoxy degenerated melamine resin painting)
Material of window
Polycarbonate
Display element
Reflective monochrome LCD
External dimensions
180 (W) × 155 (H) × 115 (D) mm (excluding mounting brackets)
Mass
Main body: Approx. 2.8 kg
Cover and mounting brackets: Approx. 1 kg
*1: The maximum load resistance that can be connected is decided depending on the power-supply voltage.
Relation between power supply voltage and load resistance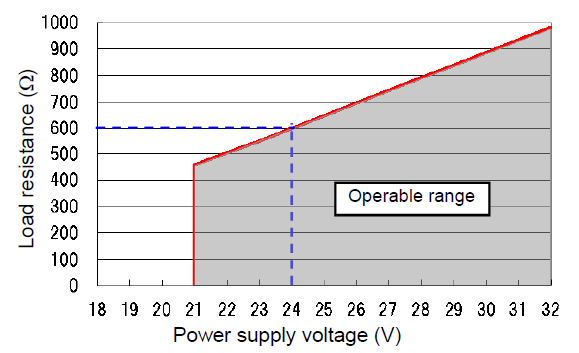 Note
An arrester (spark over voltage: 400 V) is implemented for transmission output, contact input, and communication. However, use a most suitable surge absorption element on the connection lines in accordance with the ambient environment, the situation of equipment installed, and the externally connected equipment.