Probe type optical system
Both laser and receiver are installed at the same side of the stack

Just one flange installation is sufficient for the setup

Easy replacement to an existing analyzer with no additional work

The stabilized optical axis provides excellent performance

Continuous moisture correction function supports high accuracy measurement
HORIBA's original calibration mechanism

TX-100 implements calibration without any disruption to the facility's operations. The zero point can be checked automatically and the signals are kept in stable condition over long term
(US patent No. 8934101; China patent No. ZL201280039440.7; patent applied for Japan, Europe)
<Measurement> Zero point checking and measurement are conducted alternately
Zero point checking mode
Zero point checking is carried out while the prism is inserted into the optical path at fixed intervals.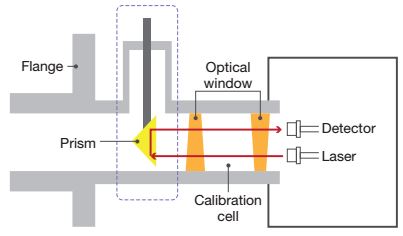 Measurement mode
In measurement mode, the prism moves upward and leaves the optical path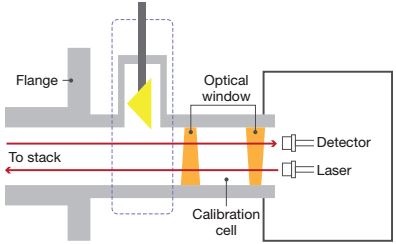 <Calibration> Calibration is conducted after span gas is filled in the calibration cell
Gas calibration is completed leaving the probe attached in the stack.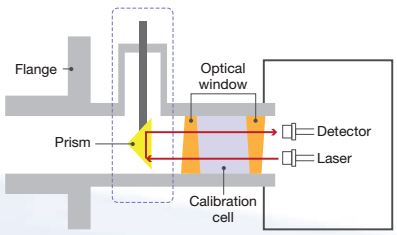 Data management for the TX-100 can be selected from various components; Analyzer's display, HMI (Human Machine Interface) unit, or from PC-HMI software
Analysis unit display
Basic display to confirm and control information such as equipment status, gas status and comunication status.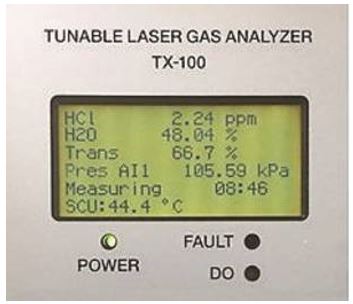 HMI unit (option)
A touch panel screen that can set and confirm concentration, transmittance, trend graph, maintenance info, alarm status, etc.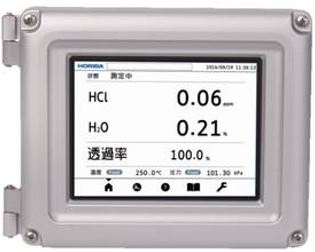 PC-HMI (software)
PC-HMI is a software that includes almost the same function as the software instaled in HMI unit. Install this software in a PC or other devices to operate. Ethernet is available for data transmission between PC and TX-100.
Free download available from our website.